Free Fatigue Life Calculator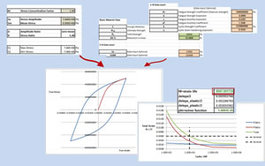 A fully functioning Excel based Fatigue Life Calculator is supplied to attendees of my Fatigue and Fracture e-Learning course. This is also available to members of the website. As well as forming a useful tool for many of the homework tasks set, attendees will be able to explore the implications of both High Cycle and Low Cycle Fatigue as discussed in the class.
The Calculator has been steadily developed over the last few years of delivering this course and attendees and members are entitled to future upgrades.
An example guide is also available for download which describes an e-N life calculation. This uses the Excel solver add-in .
Basic Material Data and Strain Life Material data is input, or derived from fundamentals.
Neuber notch and Plastic material intersection points are found allowing a hysteresis cycle to be plotted.
The strain life curve is plotted and the number of cycles to failure is calculated.
The calculator is being updated, check back soon for a new version.
Download the Example guide (Legacy version 1):
(Password FETraining)